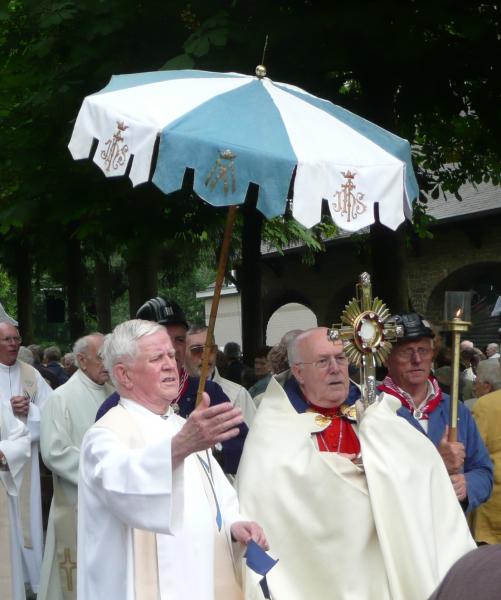 The Virgin Mary wanted to give the sick a place of choice in Banneux. Therefore, it is normal that hospitality is offered to them and that they have a place of honour during the celebrations.
A particularly intense and unanimously appreciated moment is the blessing of the sick. It is celebrated throughout the pilgrimage season. It takes place every day (except on Friday) at 3 p.m., and the celebration brings together all the pilgrims around our sick brothers and sisters.
Songs and prayers are always in several languages. A chief priest goes around the assembly and blesses the pilgrims with the Blessed Sacrament. A particular attention is given to the less fortunate people.
The celebration can take place on the Esplanade or in a chapel, depending on the influx of pilgrims and weather conditions.
Jesus is at work in our midst
We brought to Jesus all those who suffered, preying upon all kinds of diseases and torments … (Matthew 4: 24).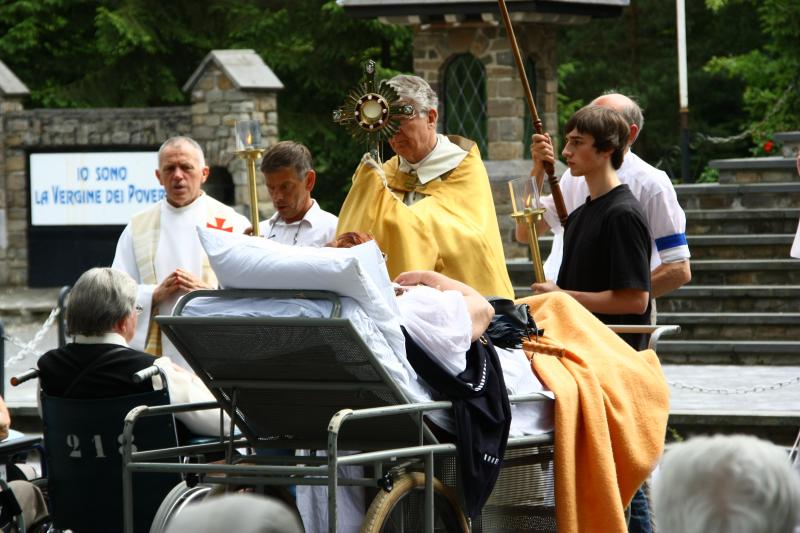 Jesus went about all the cities and villages, teaching in their synagogues, and proclaiming the good news of the kingdom, and curing every disease and every sickness  (Matthew 9: 35).
Then Jesus called the twelve together and gave them power and authority over all demons and to cure diseases, and he sent them out to proclaim the kingdom of God and to heal (Luke 9: 1-2).